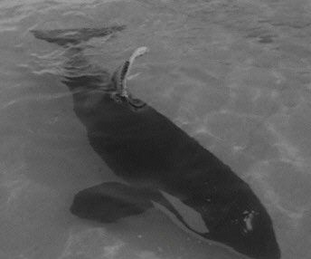 Calypso was a 7 year old female orca who was captured in Canada on December 12, 1969. She passed away in December 1970 at Marineland Antibes.
Soon after her capture, Calypso was transferred to the Cleethorpes Zoo. Calypso was the only orca park and her stay was short as she was soon moved to Marineland Antibes in 1970. Calypso was the first killer whale to be artificially inseminated, though it was unsuccessful. It is unknown which male was used for the AI.
At Antibes, Calypso met a young male named Clovis. Sadly, Calypso passed away in December 1970 of an unknown illness. 
Sex-Female
Aged-7
Captured-12/12/69
Age at Capture-Approximately 6
Place of Capture-Pender Harbor, BC
Date of Death-12/--/70
Place of Death-Marineland Antibes
Cause of Death-Unknown
Family
A Pod (Northern Residents)
Origin of Calypso
Greek for "Conceal"
Pronounced: cal IP so
Weight
Length
Breed
Trending pages
All items (1)