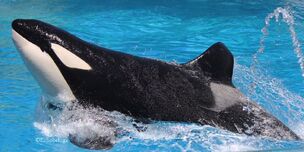 Ikaika is a 19 year old male orca who lives at SeaWorld San Diego. He was born at SeaWorld Orlando on August 25, 2002. His mother is Katina and his father is Tilikum.
Ikaika was Katina's fifth calf and she also lived with several other of her calves when Ikaika lived in Orlando. One of them was her son Taku. Taku and Ikaika became very close over the years they spent together and the two could often be seen performing with Katina.
In 2006, Ikaika was sent to Marineland Ontario while Taku moved to SeaWorld Texas. Ikaika stayed in Canada until November 2011, when SeaWorld went to court with Marineland to regain custody of Ikaika after they claimed Marineland wasn't providing the care Ikaika needed.
Sex-Male
Age-19
Birthday-8/25/02
Birth Place-SeaWorld Orlando
Type of Birth-Tail First
Time of Birth-11:53 (EDT)
Family
Parents
Sister
Half Sisters
Kalina (1985)*, Katerina (1988)*, Nyar (1993)*, Kohana (2002), Skyla (2004)*, Nalani (2006), Malia (2007), Sakari (2010)
Brothers
Taku (1993)*, Makaio (2010)
Half Brothers
Kyuquot (1991), Sumar (1998)*, Tuar (1999), Tekoa (2000), Nakai (2001)
Nieces
Skyla*, Kalia, Halyn*, Nalani, Victoria*, Amaya*, Kyara*, Ula*
Nephews
Keet, Keto, Tuar, Trua, Adan
Origin of Ikaika
Hawaiian for "Strength"
Pronounced: ee KY kuh
Nicknames
Other Names Considered
Ramu
Mottaka (Reception in Icelandic)
Tsunami (Harbour Wave in Japanese)
Ramius (Character in "The Hunt for Red October")
Weights
350 lbs (August 2002)
4,000 lbs (2011)
5,000 lbs (Dec. 2012)
5,900 lbs (2014)
6,300 lbs (2015)
7,200 lbs (July 2017)
Lengths
7 ft (August 2002)
17 ft (2011)
19 ft (2015)
Breed
Ikaika arrived to SeaWorld San Diego on November 15, 2012. He soon met the other orcas at the park. Ikaika seems to get along well with his pod mates. He even enjoys spending time with the more dominant females. He is very fond of Corky and is often with her.
Trending pages
All items (1)