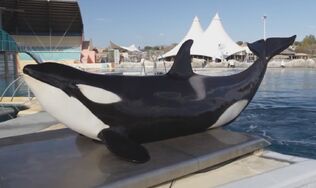 Inouk is a 20 year old male orca who lives at Marineland Antibes, where he was born on February 23, 1999. His mother is
Sharkane
and his father is
Kim 2
. 
Sex-Male
Age-20
Birthday-2/23/99
Birth Place-Marineland Antibes
Type of Birth-Tail First
Family
Parents
Sisters
Shouka (1993) and Wikie (2001)
Half Brother
Nephews
Origin of Inouk
Inuit for "Person"
Pronounced: in OOK
Weights
2,204 lbs (2003)
2,500 lbs (2004)
3,150 lbs (2005)
5,500 lbs (March 2014)
6,200 lbs (February 2016)
Lengths
10.8 ft (2003)
14 ft (2004)
15.4 ft (2008)
17.1 ft (February 2016)
Breed

In 2011, Wikie gave birth to her first calf, a male named Moana. Inouk has become very close with Moana and can often be seen with him and Wikie. He has also become close with Wikie's second calf Keijo. Inouk performs with all members of the pod and knows many behaviors. Though he has never shown aggression towards his trainers, waterworks was stopped for all whales at Marineland.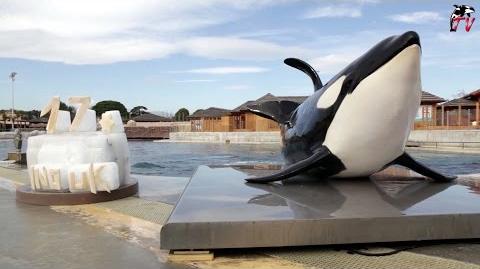 Trending pages
All items (1)
Community content is available under
CC-BY-SA
unless otherwise noted.