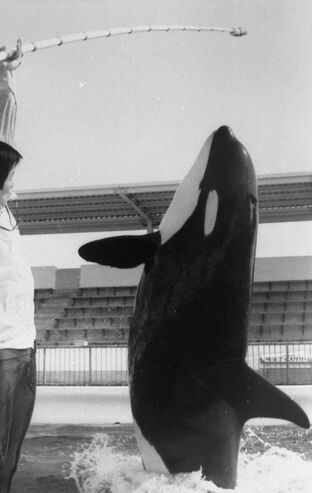 Jumbo was a 9 year old male orca who was captured in Washington, USA on August 8, 1970. He passed away at Kamogawa Sea World July 1974.
Jumbo was one of seven whales to be taken into captivity after over 80 orcas were caught in Washington. Soon after his capture, he was purchased by Kamogawa Sea World in Japan along with a whale named Chappy. The two were very popular among visitors. 
Sadly, Chappy passed away in April 1974. Jumbo soon passed away in July 1974 from liver dysfunction. 
Sex-Male
Aged-9
Captured-8/8/70
Age at Capture-Approximately 5
Place of Capture-Washington, USA
Date of Death-7/--/74
Place of Death-Kamogawa Sea World
Cause of Death-Liver Dysfunction
Family
Unknown (Southern Residents)
Origin of Jumbo
English for "Large"
Pronounced: jum BO
Breed
Trending pages
All items (1)