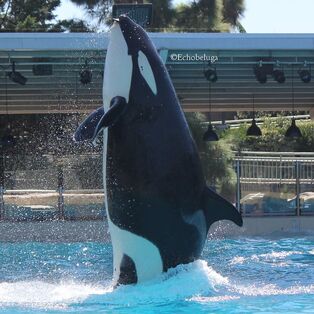 Kalia is a 16 year old female orca who lives at SeaWorld San Diego where she was born on December 21, 2004. Her mother is Kasatka and her father is Keet. She is also known as Great Grandbaby Shamu as she is the grand daughter of the first orca born in captivity, Kalina, who is Keet's mother. She is Keet's first calf.
Kalia was a very dominant orca as she matured. She would often put the other orcas in their place. After her mother gave birth to her younger brother Makani, she mellowed out some, often showing her maternal side and taking care of Makani.
Sex-Female
Age-16
Birthday-12/21/04
Birth Place-SeaWorld San Diego
Type of Birth-Tail First
Time of Birth-9:22 (PST)
Family
Parents
Grandparents
Great Grandparents
Calf
Half Sisters
Takara (1991), Halyn (2005)*
Half Brothers
Nakai (2001), Makani (2013)
Aunts
Baby Shamu 2*, Katerina*, Takara, Unna*, Skyla, Nalani
Uncles
Taku*, Keto, Tuar, Ikaika, Makaio
Nieces
Kohana, Sakari, Victoria*, Kamea, Kyara*
Nephews
Cousins
Kohana, Trua, Nalani, Sakari, Adan, Victoria*, Kamea, Kyara*, Ula
Origin of Kalia
Hawaiian for "Beauty" or "Clear and Bright"
Pronounced: kah LEE ah
Also Known As
Other Names Considered
Akuah (Hawaiian)
Noelle (French)
Makai (Seaward in Hawaiian)
Mele (Merry in Hawaiian)
Nuar (New Year in Icelandic)
Tehya (Precious in Native American)
Weights
350 (December 2004)
1,825 lbs (2010)
3,000 lbs (February 2013)
4,000 lbs (2014)
4,500 lbs (2015)
4,600 lbs (April 2016)
Lengths
7 ft (December 2004)
10 ft (2010)
15 ft (2015)
16 ft (April 2016)
Breed
87.5% Icelandic
12.5% Southern Resident
Kalia had been doing waterworks before they were stopped in 2010. She has never shown aggression towards her trainers but some wonder if she will be allowed to return to waterworks if they do return because of her dominant nature. Kalia also has a very playful side. She loves to interact with guests at the underwater viewing.
She is most often with Amaya, Nakai, Makani, Orkid and Shouka, but also spends a lot of time with the other members of the pod. She has formed a close friendship with Shouka. Kalia spent a lot of time with her mother, Kasatka, before she passed away in August 2017. Kalia is now the dominant whale of the pod, taking on the role from her mother.
Kalia gave birth to her first calf, a female named Amaya, on December 2, 2014. Ulises is the father of her calf. Kasatka was there to assist Kalia through the birth. Kalia has done very well with her calf and is proving to be a great mom.
Trending pages
All items (1)
Community content is available under
CC-BY-SA
unless otherwise noted.