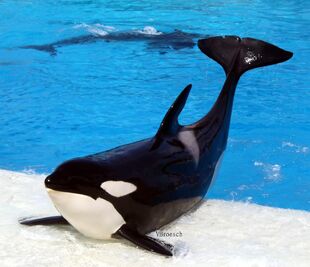 Kasatka was a 40 year old female orca who was captured in October 1978 in Iceland. She passed away on August 15, 2017 at SeaWorld San Diego.
After living in the four SeaWorld parks open at the time, she finally ended up in SeaWorld San Diego where she lived the rest of her life. She had gone on to have four calves here.
Her first calf was a female named Takara, born on July 9,1991. Takara gave birth to her first calf Kohana in 2002. In 2004, Takara and Kohana both moved to Orlando. Takara has had four more calves since. Kasatka became a great grandmother when Kohana gave birth to Adán in 2010.
On September 1, 2001, Kasatka gave birth to her second calf. He was named Nakai. He was the first orca to be conceived through artificial insemination. While Kasatka was in San Diego, the father Tilikum was in Orlando. This pregnancy was one of four featuring orcas on the Animal Planet show That's My Baby.
Her third calf was another female named Kalia. She was born on December 21, 2004. Kalia is also known as Great Grandbaby Shamu, as her great grandmother Katina gave birth to the original Baby Shamu, Kalina. Kalia gave birth to her first calf on December 2, 2014. Her calf was named Amaya.
She gave birth to her fourth calf, Makani, on Valentine's Day 2013. His father is Kshamenk after being artificially inseminated in Summer 2011.
Sex-Female
Aged-40
Captured-10/26/78
Age at Capture-Approximately 1
Place of Capture-Tvisker, Iceland
Date of Death-8/15/17
Place of Death-SeaWorld San Diego
Cause of Death-Respiratory Disease
Family
Calves
Grandchildren
Great Grandchildren
Origin of Kasatka
Russian for "Orca" and "Killer Whale"
Pronounced: kuh SOT kuh
Nicknames
Weights
5,000 lbs (2009)
4,700 lbs (2010)
4,860 lbs (2015)
4,850 (March 2016)
Lengths
17 ft (2010)
17.3 ft (March 2016)
Breed
Kasatka was the matriarch and dominant orca in her park. She was a very loving mother and had strong bonds with her calves. She had shown aggression to trainers before. After she attacked one in 2006, she was no longer allowed to do waterworks. At the time of the attack, her calf Kalia was in another tank and was vocalizing which may have caused Kasatka to show aggression.
In mid 2016, it was announced that Kasatka had been battling a progressive respiratory infection. It had became worse around this time and as she got older it was harder to treat. She continued to receive treatment and did fairly well. In late Spring 2017, she started to get worse. It was decided to euthanize her on August 15, 2017, out of fear her quality of life was deteriorating. She had been diagnosed in 2008.
Trending pages
All items (1)
Community content is available under
CC-BY-SA
unless otherwise noted.