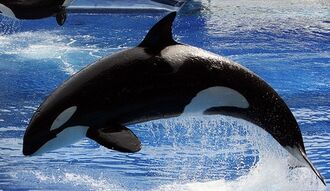 Kayla was a 30 year old female orca who lived at SeaWorld Orlando. Her mother is Kenau and her father is Orky 2. She was the first killer whale to be born at SeaWorld San Antonio on November 26, 1988. She passed away on January 28, 2019 at SeaWorld Orlando.
In 1991, Kayla moved to SeaWorld Ohio with a young female named Katerina. A few years later, Winnie joined them. After several years performing together, they were both moved to SeaWorld San Antonio. There she became close with a young male named Keet and soon mated with him and became pregnant with her first calf. On October 9, 2005, she gave birth to her daughter Halyn. Unfortunately, Kayla had never learned how to take care of a calf and rejected Halyn and she had to be raised by the trainers. A few months after her birth, the trainers decided to group her with her father Keet, who she spent most of her time with. Sadly, Halyn died on June 15, 2008.
It was decided to send Kayla to SeaWorld of Orlando in November 2006 to learn how to take care of a calf from the experienced moms living there. At the time she arrived, there were two young calves living with their mothers and another on the way. Since then, another calf was born in 2010. In April 2007, Kayla miscarried a male calf. The father has not been confirmed, though it is thought to be Keet. Her pregnancy was likely the reason for her move. It was hoped that Kayla would become pregnant through artificial insemination after having learned from the other moms how to take care of a calf, though she never became pregnant.
Sex-Female
Aged-30
Birthday-11/26/88
Birth Place-SeaWorld San Antonio
Type of Birth-Tail First
Time of Birth-12:10 (CST)
Length of Birth-1.5 Hours
Date of Death-1/28/19
Place of Death-SeaWorld Orlando
Time of Death-12:15 AM (EST)
Cause of Death-Lung Disease
Family
Parents
Calves
Half Sisters
Kiva (1982)*, Corky's Calf (1985)*, Baby Shamu 2 (1986)*, Orkid (1988)
Half Brothers
Corky's Calf (1977)*, Spooky (1978)*, Kenau's Unborn Fetus (1991)*
Unknown Siblings
Corky's Stillbirth (1980)*, Corky's Miscarriage (1986)*, Corky's Miscarriage (1987)*
Origin of Kayla
Hebrew for "Who is like God"
English for "Pure"
Pronounced: KAY lah
Weight
350 lbs (November 1988)
5,300 Ibs (August 2012)
5,600 lbs (2016)
5,840 lbs (July 2017)
Length
7 ft (November 1988)
18.7 ft (July 2017)
Breed
50% Icelandic
50% Northern Resident
Kayla could be seen with any member of the Orlando pod, aside from Tilikum. Trua's mom moved to another park in 2009 and it was decided to see how Kayla would do as a surrogate after rejecting her calf. She and Trua got along very well and the two remained close throughout the years. Kayla often participated in waterworks until they were stopped in 2010, She had never shown aggression to a trainer, aside from bumping them a few times when she was younger. She could often be seen doing waterworks on her own as well as with multiple whales.
Kayla loved her trainers attention and loved to please. She was a very gentle whale with her trainers and other orcas, though she would be dominant towards the more submissive orcas. She displayed this a few times with Kalina.
Kayla was a very energetic whale and excelled with the more advanced behaviors. She was very smart and would often be asked to incorporate multiple things into one behavior. One of her favorite secondary reinforcers was ice. While Katina was the dominant orca of the entire pod, Kayla was the dominant whale when she was grouped with Trua and Malia, which happened often.
On January 26, 2019, Kayla started showing signs of discomfort in the afternoon. She later had an exam done and had began receiving antibiotics. Despite veterinarian's efforts, Kayla worsened over the next day, passing away at 12:15 am on January 28, 2019. It was later announced she passed away from lung disease.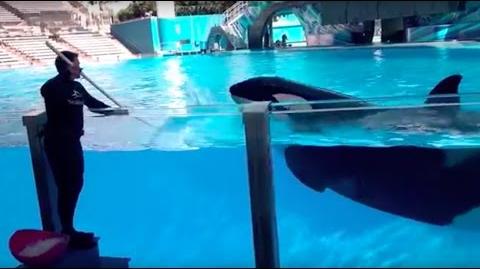 Trending pages
All items (2)