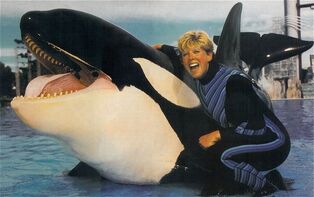 Kenau was a 15 year old female orca who was captured in Iceland on October 25, 1976. She died on August 6, 1991.
Soon after her capture, Kenau was moved to the Dolfinarium Harderwijk. She stayed here until May 1977 when she was moved to SeaWorld San Diego. Over the next few years, she moved around to the different SeaWorld parks. 
While at SeaWorld San Diego, Kenau mated with a male orca named Winston and became pregnant with her first calf. She gave birth to her calf on January 5, 1986. The calf was thought to be a female. Sadly, the calf had a heart defect and passed away on January 16.
In 1987, a male orca named Orky 2 was moved to SeaWorld San Diego. Kenau and Orky soon mated and she became pregnant with her second calf. In February 1988, Kenau was moved to SeaWorld San Antonio. Here, she gave birth to her second calf on November 26, 1988. Her calf was a female and was named Kayla. She took very good care of her calf. When Kayla was two, she was moved to SeaWorld Ohio, while Kenau was moved to SeaWorld Orlando. Kayla gave birth to her first calf, Halyn, on October 9, 2005. Kayla passed away on January 28, 2019.
Kenau became pregnant with her third calf after mating with Kotar while still in San Antonio. While in Orlando, Kenau performed with her other pod mates in shows. Kenau was a reliable whale, but she was also known to be aggressive. Sadly, Kenau became ill with bacterial pneumonia and passed away on August 6, 1991 while 12 months pregnant with a male fetus.
Sex-Female
Aged-15
Captured-10/25/76
Age at Capture-Approximately 1
Place of Capture-Medallandsbugt, Iceland
Date of Death-8/6/91
Place of Death-SeaWorld Orlando
Cause of Death-Pneumonia
Family
Calves
Grandchildren
Origin of Kenau
Dutch for "Female Leader"
Pronounced: kay NOW
Breed
Trending pages
All items (1)
Community content is available under
CC-BY-SA
unless otherwise noted.