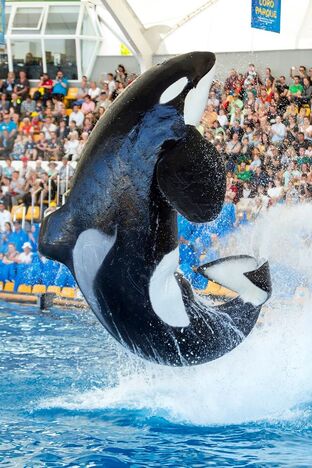 Keto is a 25 year old male orca who lives at Loro Parque. He was born at SeaWorld Orlando on June 17, 1995 to mother Kalina and father Kotar.
Keto is one of the few orcas to have lived at all four SeaWorld's that have been opened. He is rather dominant for a male orca as males are usually more submissive.
In 2006, Keto moved to Loro Parque along with three other orcas. Since then, he has sired two calves with Kohana; Adan in 2010 and Victoria in 2012. Keto is Kohana's half Uncle which makes their calves 6.25% inbred. 
Sex-Male
Age-25
Birthday-6/17/95
Birth Place-SeaWorld Orlando
Type of Birth-Tail First
Length of Labor-1.5 Hours
Family
Parents
Grandparents
Calves
Half Sisters
Takara (1991), Skyla (2004)
Brother
Half Brother
Aunts
Uncles
Nieces
Kohana, Kalia, Halyn*, Sakari, Victoria*, Kamea, Amaya, Kyara*
Nephews
Cousins
Origin of Keto
Nicknames
Weights
350 lbs (June 1995)
7,495 lbs (April 2013)
8,600 (2015)
Lengths
7 ft (June 1995)
20.5 ft (2015)
Breed
75% Icelandic
25% Southern Resident
In 2009, Keto was involved in the death of one of his trainers, Alexis, during a training session where his trainer drowned. Since this happened, waterworks was stopped, though trainers still entered the water with Adan and Victoria after.
On September 22, 2018, Morgan gave birth to his second daughter named Ula.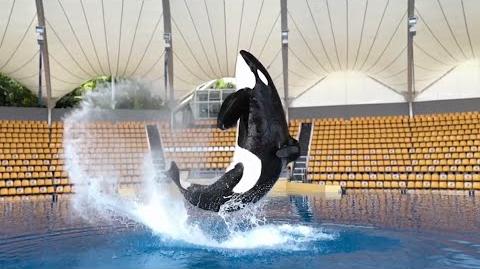 Trending pages
All items (1)
Community content is available under
CC-BY-SA
unless otherwise noted.