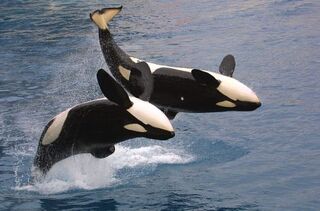 Kim 2 was a 24 year old male orca who lived at Marineland Antibes. He was captured in Iceland in October 1982 and died on November 23, 2005.
Soon after his capture, Kim and several other newly captured whales were sent to Hafnarfjordur Aquarium. Here they were trained some and waited to be purchased. Eventually, Kim and a young female, named Freya, were purchased by Marineland Antibes. They arrived to the park on March 6, 1983 where they met a female named Betty. The three performed at the park together. Sadly, Betty passed away in 1987. At this time, Kim 2 and Freya were now the only two whales at the park and Marineland started looking for others. In January 1990, Marineland received two of the last orcas to be captured in Iceland. A male named Tanouk and a female named Sharkane. Tanouk was not kept with Kim often as the two didn't get along well. Tanouk was moved in 1995 as a result.
At the time of their arrival, Freya had recently became pregnant with Kim's calf. Sadly, Freya gave birth to a stillborn in March 1991. Soon, both Freya and Sharkane became pregnant. Sadly, Freya gave birth to another stillborn calf in 1993. Sharkane, however, gave birth to her first calf, a female named Shouka. Kim got along very well with his daughter. As she matured, the two became closer and the park feared they would eventually inbreed. To avoid this, they moved Shouka to another park in 2002. 
It wasn't long before Freya was pregnant with Kim's calf again. This time, she gave birth to a healthy male calf in February 1996 named Valentin. Freya and Sharkane both went on to become pregnant two more times. Freya's calves were both stillborn. Sharkane gave birth to a male calf named Inouk in 1999 and a female calf named Wikie in 2001. Kim 2 became a grandfather when Wikie gave birth to her first calf, a male named Moana, in March 2011. She also gave birth to her second son, Keijo, in November 2013.
Kim was a reliable performer and got along with his pod mates well. Sadly, in November 2005, Kim passed away from pneumonia.
Sex-Male
Aged-24
Captured-10/--/82
Age at Capture-Approximately 1
Place of Capture-Stokkseyri, Iceland
Date of Death-11/23/05
Place of Death-Marineland Antibes
Cause of Death-Pneumonia
Family
Calves
Grand Children
Origin of Kim
English for "Regal Hill"
Vietnamese for "Golden"
Pronounced: keem
Weights
10,500 lbs (2001)
11,000 lbs (2003)
10,800 lbs (2004)
Lengths
9.5 ft (1983)
22.7 ft (2001)
22.8 ft (2003)
Breed
All items (1)
Community content is available under
CC-BY-SA
unless otherwise noted.