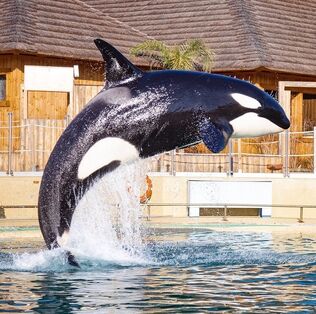 Moana is a 10 year old male orca who was born at Marineland Antibes on March 16, 2011. His mother is Wikie and his father is Ulises.
Moana was the 3rd orca calf to be born as a result of artificial insemination. While his mother lived in France, his father lived at SeaWorld San Diego in the US. Initially, Antibes announced Moana was a female and held a poll to name him. In July 2011, it was announced he was in fact, a male, though Antibes kept the name.
Sex-Male
Age-10
Birthday-3/16/11
Birth Place-Marineland Antibes
Type of Birth-Tail First
Time of Birth-5:00 (CST)
Family
Parents
Grandparents
Half Sister
Half Brother
Aunt
Uncles
Cousins
Origin of Moana
Polynesian for "Ocean"
Pronunciation-mo AH nah
Nicknames
Weights
1,763 lbs or 800 Kg (August 2012)
Lengths
11.5 ft or 3.5 m (August 2012)
Breed
Moana is extremely smart. Before he turned one he could already do behaviors other orcas his age couldn't and does many behaviors that take others years to learn. Many of the behaviors he has learned by simply watching the other orcas at the park and doing what they do. Among these, he has learned to do back bows, underwater somersaults, a traveling breach, and much more. Many he wouldn't have even trained for until he was at least a few years old.
Moana can be seen performing with the entire group or even doing some parts of the show by himself. He is independent, but is still close to his mom. In November 2013, Moana became a big brother when Wikie gave birth to her second calf, Keijo. In December 2014, Kalia gave birth to his younger sister, Amaya, at SeaWorld San Diego. He enjoys spending time with Inouk and Keijo.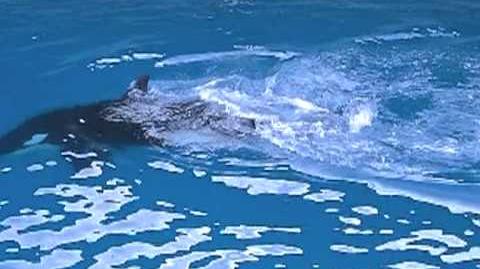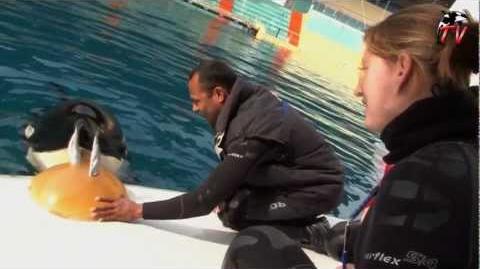 Trending pages
All items (1)
Community content is available under
CC-BY-SA
unless otherwise noted.