Deaths
1/6/17-Tilikum passed away at SeaWorld Orlando.
7/24/17-Kyara passed away at SeaWorld San Antonio.
8/15/17-Kasatka passed away at SeaWorld San Diego.
Births
4/19/17-Takara gave birth to Kyara at SeaWorld San Antonio.
Transfers
12/21/17-Two orcas were transferred from Russia to Wuxi Changqiao Ocean Kingdom.
1/6/17-Sad news out of SeaWorld Orlando as Tilikum passed away at the park this morning. They will perform a necropsy to determine cause of death, but they assume it was due to the bacterial lung infection he had been battling for quite sometime, in which he had his ups and downs through the illness.
2/10/17-SeaWorld announced that Tilikum passed away from bacterial pneumonia.
2/10/17-Russia has given a quota for up to 10 orcas to be captured in Russian waters in 2017.
2/24/17-Chimelong Ocean Kingdom showed their 9 killer whales to the public today. They have 5 males and 4 females. All were captured from Russian waters. The smallest whale is 2,400 lbs and 13.1 ft. The largest is 8,000 lbs and 21.3 ft. They range in age from 5 to 13 years old. We have found an article that mentions the names of two of the whales. They are Nukka and Tyson. 
2/25/17-Another article on the Chimelong whales states they are working on building a new tank for the whales. It states "Ocean Kingdom has begun to build an advanced natural ecological marine science museum, where there are sunshine, sand, waves, and the area is very large. It will be used for the public display, breeding and research of killer whales, and will be one of the largest and best marine science museums in the world."
2/26/17-A video has been found of the Chimelong orcas. The orcas are being held at Chimelong's Breeding Base until construction is finished on the permanent facility. One article mentions that there are two social groups of orcas, with one group in another venue. There are six whales at the breeding base and three being held at the other venue. We also know that Chimelong had two whales imported in 2013, five in 2014 and two in 2015. Here is another video. We can confirm that one of the whales in this new video, is one of the orcas in another video that had been posted on Instagram back in September 2014. This is a picture of the whale.
Here is another new video.
3/8/17-Port of Nagoya is interested in purchasing Earth from Kamogawa Sea World. There isn't much information available. Earth was originally on a 5 year loan to Nagoya.
3/8/17-Loro Parque has announced that they still plan to breed killer whales despite SeaWorld's decision to end their breeding program.
3/14/17-A new marine park called Wuxi Changqiao Ocean Kingdom is scheduled to open in 2019  in China and will house killer whales. They are owned by Hangzhou Changqiao Investment Group. Nothing has been announced on where the whales will come from, but it is assumed to be Russia. It is not yet known if the whales are in Wuxi's possession yet as Hangzhou owns several other aquariums they could be housed at until construction is finished.
3/22/17-Linyi Polar Ocean World has announced that it will open on May 1st, 2017. They have also stated that they will display four Russian orcas. Originally, it was known that they only had two orcas. It is not yet known if the other two have been captured yet or if they are also at Linyi. The orcas are part of the aquarium's second phase, though it was thought they were supposed to go on display in the Spring. It was not clarified in Linyi's release when the orcas would go on display or when phase two will be completed.
3/30/17-There is new information that another park in China plans to display orcas, called R&F Ocean Paradise. It may open around 2019. The park is under construction and would be located in Hainan. It is owned by Village Roadshow.
4/5/17-Orca Home has stated that Malvina may have passed away or escaped late last year. Nothing has been confirmed though. Orca Home is also saying that two of Chimelong's orcas were named Orpheus and Grace while in Russia. It is possible they could have been renamed after arriving in China. They were captured in August 2013.
4/19/17-SeaWorld San Antonio has announced that Takara has given birth! She gave birth today at 2:33pm local time. It is not yet known who the father is, though it is thought to be Kyuquot. The sex is also unknown. This is Takara's fifth calf.
4/20/17-We are not going to confirm it, but we are pretty sure Takara's calf is a girl! After watching the birth video, there appear to be mammary slits.
4/29/17-Marineland Antibes says that it will no longer house orcas, aside from the four they currently have. 
5/3/17-Earlier this year, it was announced that two TINRO operators were arrested for the illegal captures of orcas in 2015. More information has come out now. The arrest is directed mainly to the capture of two female orcas in the later half of 2015. The two females measure about 19.5 and 13 ft. The two whales were sold soon after capture. So we now know that out of the seven orcas captured in Russia in 2015, at least two were females. Malvina was also captured in 2015, so if she is not the smaller whale of those two, then that would make at least three females from the 2015 captures.
5/7/17-It has been announced, that France has placed a breeding ban on orcas and dolphins.
7/8/17-Shanghai Haichang Polar Ocean World has announced that it is on schedule to open in October 2018. The main foundation of the animal exhibits have been completed. Here is a link to an article on the progress. Shanghai is set to house four russian orcas. They are currently being held at Dalian Laohutan Ocean Park. They are scheduled to be moved to Shanghai within the next 6-9 months. The stadium on the far left is the one that will house the orcas.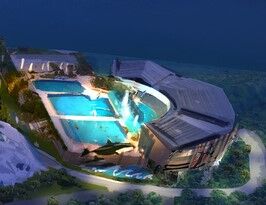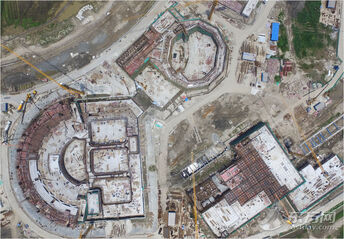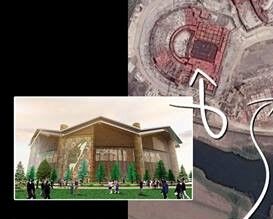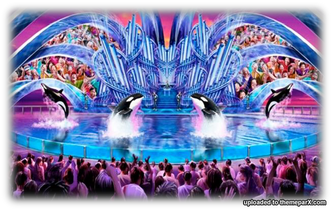 7/8/17-Final Days Presents the China Zoological Park has posted information in regards to Wuxi Changqiao Ocean Kingdom, a park being built in China that will house Russian orcas. 
"According to the Wuxi City Agriculture Committee, on June 22, representitives of the Chinese Ministry of Agriculture's Aquatic Wildlife Conservation Assocation visited the construction site of an orca breeding facility being built as part of the recently announced Wuxi Chingqiao Ocean Kingdom. The new park will be 135,000 square meters in size at an estimated cost of US$435 million. This is the fourth marine park operation for parent company Hangzhou Changqiao Investment Group, and the first to feature orcas. According to the Wuxi Agriculture Committee, construction on the orca breeding facility started in April. The building will be capped off this month and testing of the facility will begin in September. In November, an unspecified number of orca are scheduled to be introduced to the facility from an undisclosed location in Russia. Special thanks to Final Days follower Michael Giskin for uncovering the news."
7/14/17-Port of Nagoya is planning on showing orcas in the main show pool again. There is hope Earth and Lynn will eventually perform. Kamogawa also sold Earth to Nagoya in June 2016 for $426,500.
7/15/17-Rescued orca Springer has been spotted with her second calf! The new calf was first seen on June 5th, 2017. Springer was rescued in 2002 after her mom had passed away. She was rescued, rehabilitated and reunited with her extended family soon after. Springer gave birth to her first calf, Spirit, in 2013.
7/22/17-Some good news and bad news out of SeaWorld San Antonio. They have confirmed Takara's calf is a female named Kyara (a combination of her parent's names). The bad news is that she is showing signs of pneumonia. She is being taken care of by veternarians and trainers so she can get the nutrition she needs to eventually rejoin her mother. She is currently at SeaWorld San Antonio's animal hospital receiving treatment. They hope she will recover soon so she can be reunited. We hope Kyara will make a full recovery quickly!
7/24/17-We are deeply saddened to announce the passing of little Kyara. Despite best efforts, she slowly deteriorated and passed away earlier today from an infection, thought to be pneumonia. Rest in peace Kyara.
8/6/17-Earth and Lynn are now doing presentations in the show pool. Stella stays in the side pool while the presentation is going on, but has open access to the show pool. It was said she was apprehensive of going in the show pool when she first arrived to Nagoya, which is why the rest of the pod had followed her lead.
8/10/17-Orca Home has posted that Malishka's real name is Naja, which means rescue or escape in Arabic.
8/15/17-We are saddened to announce the passing of Kasatka at SeaWorld San Diego. Her health began to deteriorate a few days ago and she lost her appetite. It was decided to euthanize her on August 15th. She had gotten worse over the last few months, but had the respiratory infection since 2008.
10/1/17-Big news out of France today that the breeding ban on cetaceans has been lifted. 
10/13/17-Another park planned for China has announced they will house orcas. The park plans to open in 2020 in Nanjing, China. The name of the park hasn't been announce yet.
11/1/17-A "Guide to Orcas in China" has been updated stating that Wuxi will be receiving two orcas. We already knew that they would be transported to Wuxi's holding facility, this month or later, but had not known how many. The orcas will be coming from an unknown location in Russia. 
11/7/17-SeaWorld has announced that they have relinquished the ownership of their Loro Parque orcas to Loro Parque. 
12/3/17-Loro Parque has confirmed that Morgan is pregnant with her first calf. The father and due date are unknown.
12/5/17-According to this article, Morgan is due to give birth around December 2018.
12/9/17-This article confirms Morgan mated naturally, so Keto or Tekoa is the father of her calf.
All items (1)
Community content is available under
CC-BY-SA
unless otherwise noted.