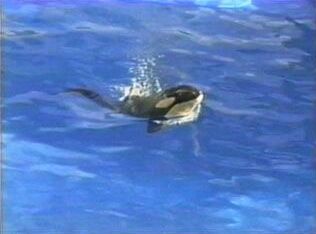 Nyar was a 2 year old female orca who was born on December 31, 1993 at SeaWorld Orlando. Her mother is Gudrun and her father is Tilikum. She passed away on April 1, 1996.
Soon after her birth, Nyar started showing signs of health issues. She was not developing at the same rate as other calves and had trouble swimming. She struggled both physically and mentally. Animals of many species are known for attempting to kill their offspring when their health is compromised. Gudrun attempted to drown Nyar several times when she noticed Nyar was having health problems.
Sex-Female
Aged-2
Birthday-12/31/93
Birthplace-SeaWorld Orlando
Type of Birth-Tail First
Date of Death-4/1/96
Place of Death-SeaWorld Orlando
Cause of Death-Immune System Failure
Family
Parents
Half Sisters
Taima (1989)*, Unna (1996)*, Kohana (2002), Skyla (2004), Malia (2007), Sakari (2010)
Half Brothers
Kyuquot (1991), Nootka 4's Calf (1992)*, Taku (1993)*, Sumar (1998)*, Tuar (1999), Tekoa (2000), Haida 2's Fetus (2001)*, Nakai (2001), Ikaika (2002), Makaio (2010)
Unknown Siblings
Nootka 4's Stillborn (1994)*, Gudrun's Stillborn (1996)*, Kalina's Stillborn (1997)*, Taima's Stillborn (2010)*
Nieces
Nalani, Malia, Victoria*, Kyara*
Nephews
Sumar*, Tekoa, Trua, Adan
Origin of Nyar
Hungarian for "Summer"
Pronounced: ny AR
Breed
After this occurred, trainers tried placing her with her father Tilikum. The two got along very well. Tilikum was very gentle with his daughter. 
Sadly, in February 1996, Nyar's mother passed away from complications of giving birth to a stillborn calf. After this happened, Nyar's health declined. She ended up passing away on April 1, 1996.
Trending pages
All items (1)
Community content is available under
CC-BY-SA
unless otherwise noted.