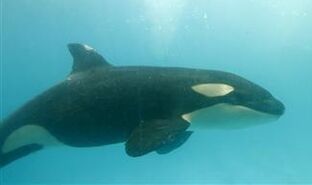 Pascuala was a newborn female orca who was rescued on April 10, 2007 in Mexico. She passed away on June 10, 2007.
Pascuala was found on a beach in Mexico. Her body was covered in cuts and she was malnourished. A rescue team was there to help her and it was decided to keep her at a nearby hotel to help stabilize her until a rehabilitation facility could be found.
Dolphin Adventure Vallarta offered to care for her during her rehabilitation. A few days after her rescue, there were plans to send her to SeaWorld San Diego for further care. This never occurred, however, as native fauna was not allowed to be transported out of Mexico.
Pascuala stayed at Vallarta, receiving care. She eventually started to recover. Her wounds were healing and she was able to swim on her own. She was eventually introduced to bottlenose dolphins. The dolphins didn't seem to interested in her though. She had become more active in the first few weeks, but she started to deteriorate again when she had less contact with humans and the dolphins stayed away from her. She continued to lose weight and the water she lived in was likely to warm for her. Sadly, Pascuala passed away on June 10, 2007 from immune system failure.
Sex-Female
Aged-2 Months
Rescued-4/10/07
Age at Rescue-2 Weeks
Place of Rescue-Bay of Mantanchen, Mexico
Date of Death-6/10/07
Place of Death-Vallarta Dolphin Adventures
Cause of Death-Immune System Failure
Family
Origin of Pascuala
Spanish for "Easter"
Pronounced: pahs KWAH lah
Breed
All items (1)
Community content is available under
CC-BY-SA
unless otherwise noted.