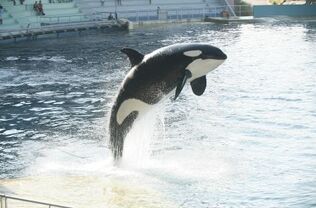 Sharkane was a 23 year old female orca who was captured in October 1989 from Iceland. Soon after, she was sent to Marineland Antibes where she stayed until her death on January 3, 2009.
While at Marineland, Sharkane gave birth to three calves; Shouka in 1993, Inouk in 1999 and Wikie in 2001, all sired by Kim 2. After Kim died in 2005, there were plans to start training Sharkane and Wikie for artificial insemination. While Sharkane passed away in 2009, Wikie became pregnant with her first calf in late 2009. Wikie gave birth to her son, Moana, on March 16, 2011. She gave birth to her second calf, Keijo, on November 20, 2013.
Sex-Female
Aged-23
Captured-October 1989
Age at Capture-Approximately 4
Place of Capture-Hornafjord, Iceland
Date of Death-1/3/09
Place of Death-Marineland Antibes, France
Cause of Death-Bacillus Pyocyanique
Family
Calves
Grandchildren
Origin of Sharkane
Turkish
Meaning "Leader".
Also known as
Breed
All items (1)
Community content is available under
CC-BY-SA
unless otherwise noted.