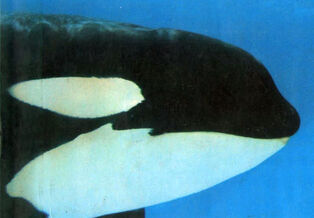 Skana was a 17 year old female orca who was captured in the United States on February 15, 1967. She passed away at the Vancouver Aquarium on October 5, 1980.
Skana was one of the first killer whales to be captured for a marine park. Skana was kept in a sea pen at Yukon Harbor with four other whales for the first week and a half. After that, they were all moved to the Seattle Marine Aquarium were they waited to be bought by a park. Skana was bought by the Vancouver Aquarium and moved there a month after her capture. Skana was trained and eventually performed in shows. 
In 1968, the park bought a second orca named Hyak 2. The two got along very well and both performed together. Sadly, Skana became ill in 1980 and passed away from a mycotic infection on October 5.
Sex-Female
Aged-17
Captured-2/15/67
Age at Capture-4
Date of Death-10/5/80
Place of Death-Vancouver Aquarium
Cause of Death-Mycotic Fungal Infection
Family
K Pod (Southern Residents)
Origin of Skana
Haida for "Killer Whale"
Pronounced: skah NAH
Also Known as
Weights
2,990 lbs (1967)
7,920 lbs (1980)
Lengths
14.4 ft (1967)
18 ft (1978)
20.6 (1980)
Breed
Trending pages
All items (1)