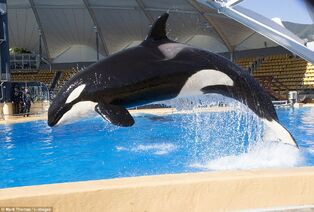 Skyla is a 15 year old female orca who lives at Loro Parque. She was born on February 9, 2004 at SeaWorld Orlando to mother
Kalina
and father
Tilikum
.
From the early months of Skyla's life, she was a very independant calf like her older siblings. She spent a lot of time with Kalina and soon found friends in Ikaika and Kohana.
Sex-Female
Age-15
Birthday-2/9/04
Birth Place-SeaWorld Orlando
Type of Birth-Tail First
Time of Birth-10:10 (EST)
Family
Parents
Grandparents
Half Sisters
Nyar (1993)*, Unna (1996)*, Kohana (2002), Malia (2007), Sakari (2010)
Brother
Half Brothers
Kyuquot (1991), Keet (1993), Taku (1993)*, Keto (1995), Sumar (1998)*, Tekoa (2000), Nakai (2001), Ikaika (2002), Makaio (2010)
Aunts
Uncles
Nieces
Kalia, Halyn*, Nalani, Victoria*, Amaya, Kyara*
Nephews
Cousins
Origin of Skyla
English for "The Sky"
Celtic for "Learned One"
Pronunciation-SKY lah
Nicknames
Weight
370 lbs (February 2004)
2,100 lbs (January 2008)
4,500 lbs (2016)
Lengths
7 ft (February 2004)
11.5 ft (January 2008)
18 ft (2016)
Breed
75% Icelandic
25% Southern Resident
Skyla and Kohana became very close, and in 2006 they both were moved to Loro Parque with Keto and Tekoa. Skyla grew up doing whatever she wanted due to the lack of a maternal figure. She often shows her dominance towards the other orcas. She has also been involved in incidents with trainers and was stopped from performing waterworks.
Despite her nature towards the pod, she is a very smart and reliable performer. She knows many advanced behaviors and is still learning. She can often be seen with Kohana, Morgan and Adan, though she also spends time with Keto and Tekoa.
Trending pages
All items (1)
Community content is available under
CC-BY-SA
unless otherwise noted.