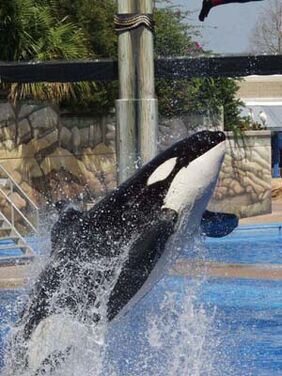 Taku was a 14 year old male orca who was born on September 9,1993 at SeaWorld Orlando. His mother is Katina and his father is Tilikum. He passed away on October 17, 2007. 
Taku grew up with his mother and siblings. When he was three years old, Katina gave birth to his younger sister Unna. The three could often be seen together, in and out of shows. They occasionally could be seen performing with Tilikum as well. Soon after Katina gave birth to Ikaika in 2002, Unna moved to SeaWorld San Antonio. Taku became very close to Ikaika, to the point that Taku was like a surrogate. 
In 2004, Takara and her daughter Kohana moved to Orlando and met Taku. Taku became very interested in Takara and she soon became pregnant with his first calf. On November 23, 2005, Takara gave birth to a male calf named Trua. 
Taku was extremely close to his mother. The two eventually mated and Katina became pregnant with his second calf. Katina gave birth on September 18, 2006 to a female calf named Nalani. Nalani was the first orca to be inbred and born in captivity. Despite being inbred, Nalani has become an extremely smart and playful whale and shows no signs of being inbred.
Soon after Nalani's birth, Taku and Ikaika were both moved to other parks. Taku was moved to SeaWorld San Antonio, where he was reunited with his sister Unna and his nephew Tuar. He became close to his nephew Keet, who was actually the same age as him. Sadly, Taku became ill in October 2007. He ended up passing away after coming down with pneumonia.
Sex-Male
Aged-14
Birthday-9/9/93
Birth Place-SeaWorld Orlando
Type of Birth-Tail First
Date of Death-10/17/07
Place of Death-SeaWorld San Antonio
Cause of Death-Pneumonia
Family
Parents
Calves
Sister
Half Sisters
Kalina (1985)*, Katerina (1988)*, Nyar (1996)*, Kohana (2002), Skyla (2004), Nalani (2006), Malia (2007), Sakari (2010)
Brothers
Ikaika (2002), Makaio (2010)
Half Brothers
Kyuquot (1991), Sumar (1998)*, Tuar (1999), Tekoa (2000), Nakai (2001)
Nieces
Skyla, Kalia, Halyn*, Nalani, Victoria*, Amaya, Kyara, Ula
Nephews
Keet, Keto, Tuar, Trua, Adan
Origin of Taku
Japanese for "Small" or "Young"
Pronounced: tah COO
Breed
Trending pages
All items (1)
Community content is available under
CC-BY-SA
unless otherwise noted.