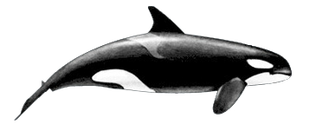 In April 2006, Unna gave birth to a female calf. The father is unknown, though it is thought to be Keet. If Unna conceived with a male living in the same park as her at the time, the calf would have been inbred as Unna was related to all of the males living with her. The only other alternative would be if she was artificially inseminated. Little is known about Unna's calf. The calf was a stillborn.
Sex-Female
Place of Birth/Death-SeaWorld San Antonio
Date of Birth/Death-April 2006
Family
Parents
Grandparents
Aunts
Kalina (1985)*, Katerina (1988)*, Nyar (1993)*, Kohana (2002), Skyla (2004), Nalani (2006), Malia (2007), Sakari (2010)
Uncles
Kyuquot (1991), Taku (1993)*, Sumar (1998)*, Tuar (1999), Tekoa (2000), Nakai (2001), Ikaika (2002), Makaio (2010)
Cousins
Keet, Keto, Tuar, Skyla, Kalia, Halyn*, Trua, Nalani, Adan, Victoria*, Amaya, Kyara*, Ula

(Note: Keet's family is not listed since he was never confirmed to be the father. See Keet's profile.)
Breed
Unna is 100% Icelandic.
Keet is 75% Icelandic and 25% Southern Resident.
Trending pages
All items (1)
Community content is available under
CC-BY-SA
unless otherwise noted.