Victoria, also known as Vicky, was a young female orca. She was born at Loro Parque on August 3, 2012 and passed away on June 16, 2013. Her mother is Kohana and her father is Keto.
Sadly after birth, Kohana rejected her calf. She did stay in the same tank with her for a while but the trainers had to step in to raise her. Skyla was also present at the time of the birth. Victoria is also slightly inbred as Kohana's mother Takara, is Keto's half sister. This combination makes Vicky 6.25% inbred.
Sex-Female
Aged-10 months
Birthday-8/3/12
Birth Place-Loro Parque
Type of Birth-Tail First
Length of Labor-2 Hours
Date of Death-6/16/13
Place of Death-Loro Parque
Cause of Death-Intestinal Issues
Family
Parents
Grandparents
Great Grandparents
Half Sister
Brother
Aunts
Takara, Nyar*, Unna*, Skyla, Malia, Sakari, Kamea, Kyara*
Uncles
Kyuquot, Keet, Taku*, Keto, Sumar*, Tuar, Tekoa, Nakai, Ikaika, Trua, Makaio, Makani
Cousins
Kohana, Kalia, Halyn*, Trua, Nalani, Sakari, Adan, Kamea, Amaya, Kyara*, Ula
Origin of Victoria/Vicky
English
Latin for "Victory" or "Conqueror"
Pronunciation-VIC tor EE ah/ VIK ee
Weight
335 lbs or 152 Kg (August 2012)
Length
7.8 ft or 2.4 M (August 2012)
Breed
87.5% Icelandic
12.5% Southern Resident
Victoria was doing well early in life. She was very energetic, playful and willing to learn. The trainers spent a lot of time playing and taking care of her.
Victoria met her older brother, Adan, in November 2012. They were often seen together after that and the two loved playing with one another. She was weaned from milk and had began training.
A few days before her death, trainers noticed a change in her behavior. Veterinarians were consulted and one flew in from SeaWorld in the U.S. Sadly, Vicky passed away on June 16, 2013.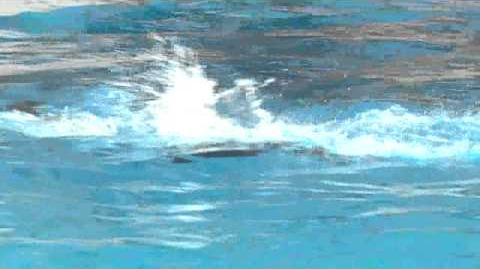 Trending pages
All items (1)
Community content is available under
CC-BY-SA
unless otherwise noted.