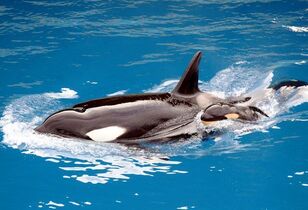 Wikie is an 18 year old female orca who lives at Marineland Antibes, where she was born on June 1, 2001. Her mother is
Sharkane
and her father is
Kim 2
.
In 2009, Wikie was involved in an incident where she pushed a trainer underwater. Other small incidents have happened throughout the years, but waterworks stopped after this incident and have yet to return and it's unknown if they ever will. Wikie is a great performer though and knows many behaviors.
Sex-Female
Age-18
Birthday-6/1/01
Birth Place-Marineland Antibes
Type of Birth-Tail First
Time of Birth-7:00 (CST)
Family
Parents
Calves
Sister
Brother
Half Brother
Nephews
Origin of Wikie
Hawaiian for "Fast"
Pronounced: wee KEE
Weights
350 lbs (June 2001)
4,500 lbs (August 2012)
Lengths
7 ft (June 2001)
17.1 ft (August 2012)
Breed
In 2009, Wikie was artificially inseminated with Ulises semen. Ulises lives in SeaWorld San Diego and it was thought he wasn't capable of siring calves, yet after multiple attempts, Wikie became pregnant. Wikie gave birth to both her and Ulises' first calf on March 16, 2011. Her calf was the 1st orca to be born through artificial insemination in Europe and the 3rd in the world. At first it was reported she had a daughter and was named Moana. Soon after though, it was announced he was a male and that they would keep his name.
Wikie gave birth to her second calf and second son on November 20, 2013. The father was not confirmed, but is said to be Valentin. On April 14, 2014, Marineland announced the calf had been named Keijo.
Wikie has been a very good mother. She spends a lot of time with her sons. She has also been a very good teacher to Moana in showing him behaviors and he caught onto many very quickly. She also seems to push him to be independant, even to the point that he would perform by himself at only a year of age. She seems to be using similar mothering skills with Keijo, in that he also seems to be independant and will often join his mother in show behaviors. She is also very close with her brother Inouk and the four of them spend a lot of time together.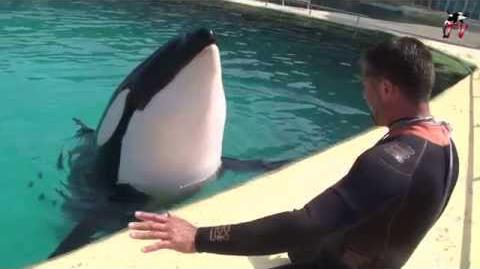 Trending pages
All items (1)
Community content is available under
CC-BY-SA
unless otherwise noted.