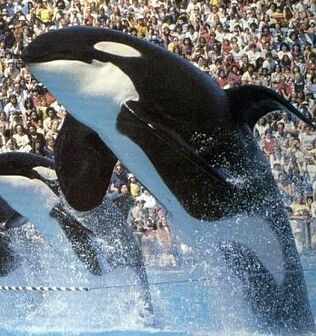 Winston, also known as Ramu, was a 19 year old male orca who lived at SeaWorld California. He was captured in the United States on August 8, 1970 and died on April 28, 1986.
Soon after Winston's capture, he was moved to the Seattle Marine Aquarium. Here he waited with several other orcas to be sold to a marine park. On September 1, Winston arrived to Windsor Safari Park. Here he was known as Ramu. Winston was the only whale who lived at the park at this time. 
On October 17, 1976, Winston was moved to SeaWorld San Diego where he received his name. Here he met many different whales. Upon his arrival, he met Kona and Kilroy. The three whales performed together, but sadly Kona passed away the next year. The park soon acquired three more whales who soon joined Winston and Kilroy in shows. It was hoped that Winston would eventually breed with the females. Eventually, Winston met a young female named Katina. The two mated and Katina became pregnant with her first calf. On September 26, 1985, Katina gave birth to a female calf named Kalina. Kalina was the first killer whale to be born at a SeaWorld park and the first calf to be born successfully in captivity. Kalina sadly passed away in October 2010. She had given birth to four of her own calves, Keet, Keto, Tuar and Skyla.
Soon after Katina became pregnant, Winston mated with a female named Kenau. Kenau gave birth to her first calf, a female nicknamed "Baby Shamu 2" in January 1986. The calf suffered from a heart defect and passed away later that month. His third calf was born on January 31, 1986 to Kandu 5. Sadly, the calf was a stillborn. Winston passed away soon after on April 28, 1986 from heart failure.
Winston could be aggressive towards trainers. He could be rather moody and would sometimes refuse to participate in shows. Winston became a great grandfather in December 2004 when Keet's first daughter Kalia was born. Kalia gave birth to her first calf, a female named Amaya, in December 2014.
Sex-Male
Aged-19
Captured-8/8/70
Age at Capture-Approximately 4
Place of Capture-Penn Cove, WA
Date of Death-4/28/86
Place of Death-SeaWorld California
Cause of Death-Chronic Cardiovascular Failure
Family
Calves
Grandchildren
Great Grandchildren
Great Great Grandchildren
Origin of Winston
Old English for "Joy Stone"
Pronounced: win STUN
Also Known as
Weights
2,200 lbs (August 1970)
5,500 lbs (1976)
7,500 lbs (1978)
Lengths
13.3 ft (August 1978)
19 ft (1976)
20.6 ft (1978)
Breed
Trending pages
All items (1)
Community content is available under
CC-BY-SA
unless otherwise noted.